The practice
Welcome to the website of Meyer Dental!
You can count on the expertise of the experienced professionals at our practice.
We offer general dental care for the prevention of tooth decay; oral hygiene; endodontics; aesthetics; pediatric dentistry and dental care for seniors.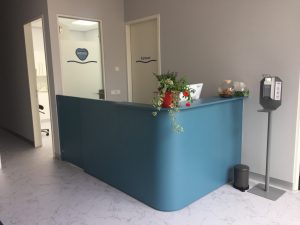 At Meyer Dental, your oral health is our primary concern. We treat patients in a friendly and relaxed atmosphere. Each patient is thoroughly informed about his or her oral health and any procedure  necessary to maintain it. Patients are provided ample opportunity to discuss any concern.
The vast majority of dental treatments are carried out by Meyer Dental professionals. In the event a complicated procedure requiring advanced expertise, we will refer you to a specialist who is proven in their field of expertise.
Ongoing dental care
Patients at Meyer Dental are seen at regularly scheduled intervals for a basic check‐up.
During these periodic consultations, a thorough intra‐oral examination of the mucosa, teeth and gums is administered. Specific attention is given to any dental issue experienced by the patient during the time since his/her last vist or check‐up. During this office visit, teeth are given a thorough cleaning.
How ever, if necessary, a separate appointment with our hygienist can also be made.
If a problem is assessed in the mouth, the dentist will explain the situation and discuss:
a treatment plan and the expected results
any normal risk associated with such treatment
the estimated number of treatments (vists) which may be required
the time needed per treatment
Meyer Dental Team
Our dental practice consists of two dentists, dental assistants and one oral hygienist.
Providing quality dental care is our primary goal and your oral health is of utmost importance to us!
Each member of our team plays an important part in providing you with the best dental care possible.
Dr. Mira-Belle Meyer is the owner of the Meyer Dental Practice and has more than 20 years of experience as a dentist. Dr. Meyer sees patients on Monday, Tuesday, Wednesday and Friday.
Dr. Renu Saini is American‐Dutch. She began her dental studies in the U.S and completed them in the Netherlands. She has more than 15 years of experience as a dentist and sees patients on Monday, Wednesday (one Wednesday a month), Thursday, and Saturday (once a month).
Ineke Snoek is an oral hygienist with more than 20 years of experience. She is trained in protocols related to periodontal treatment and dental implants. Ineke welcomes patients in the office on Wednesday and Friday.
Our dental assistants Nathalie Davis and Jolanda vde Keyzer are likely who you will have contact with when calling the office. They are friendly and helpful. They can provide answers to questions you may have.
Registering as patient
For assistance, in English, with registering as a patient at Meyer Dental, please send an email to tandartsafspraak@gmail.com with your name date of birth, address and how to reach you. Or you can call the office between  09:00‐17:00 Monday to Friday. Tel: +31 (0)70 362 62 46
Office location
Meyer Dental is located at: Reinkenstraat 64, 2517 TS Den Haag.
The office is on the ground Floor and easily accessible by public transportation:
Tram 3 (Conradkade Zuid)
Tram 1 (Groot Hertoginnelaan West)
Tram 17, Bus 24 (Groot Hertoginnelaan Oost)
Bus 21 (Conradkade Noord)